Morning,
First post from actually on the road! After an absolutely lovely week in Cambridge, I flew out to Kathmandu via Singapore and Kuala Lumpur - bit of a tortuous route, but it was the cheapest way to do it. Spent an evening in Singapore, took a bus to the city centre as it was already getting late. I missed the stop at the Singapore Flyer (like the London Eye, just bigger) so I got off at a random mall and wandered around it. It was fun being the tallest person in sight by some way, and eventually I found a food court and had a ridiculously spicy/peppery fish soup of some sort which got me excited for Asian food adventures. The night ended on stunning Changi Airport's floor (although I later broke into a Japanese restaurant which had comfy-looking benches...).
Kathmandu itself is amazing (as is the flight in - so scenic!) - really bustling and restless, but it doesn't feel crowded despite the utter chaos and absence of any traffic rules or control. Cars and motorbikes rush by in a constant stream about 2 inches from you, but what would seem an insane near-miss in London is just normal here as they weave among the pedestrians. The hawkers and touts are less omnipresent than in places like Marrakech
, and MUCH less annoying - after a try or two they leave you alone, so it's really pleasant just wandering the streets and trying to make sense of the utter haphazardness of it all.
Steve and I have had to do a LOT of gear rental and purchases - but we're finally ready to fly out to Lukla tomorrow morning and head off into the mountains! Besides lots of layers and sleeping bags, we got crampons, ice axes and jumars and huge double-plastic boots - all for the one day when we summit Island Peak. The rest of our group are more experienced and are using Island Peak as acclimatisation - they'll be heading to Ama Dablam (6856m) afterwards to climb that; Steve and I will then be wandering around more mountains (and Everest Base Camp) with a Sherpa, and the small-group feeling should be really pleasant (and instructive!).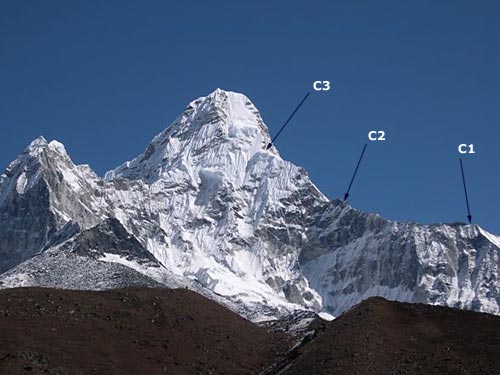 Ama Dablam and the camps used to get to the summit
We may well get some chances to run around on some of the huge glaciers around here, not least the Khumbu which flows down from Everest - most of these are debris-covered so will be familiar from my dissertation fieldwork.
Khumbu Glacier's lower reaches - looks almost surreal!
I will do my best to supply photos asap - I've been a muppet and left the camera cable at home, so will have to try to find one here before we fly out!